A step on the way Podiensis (GR65)
The Chapel of the Ursulines
Pilgrims House • Aire-sur-l'adour
Aire-sur-Adour, front of Sainte Quitterie Church
2 dormitories of 6 beds (L.90cm)
Attention : Reservation by email only
From 10 November 2019 to 1 April 2020
Way to St. James of Compostela
Pilgrims Welcome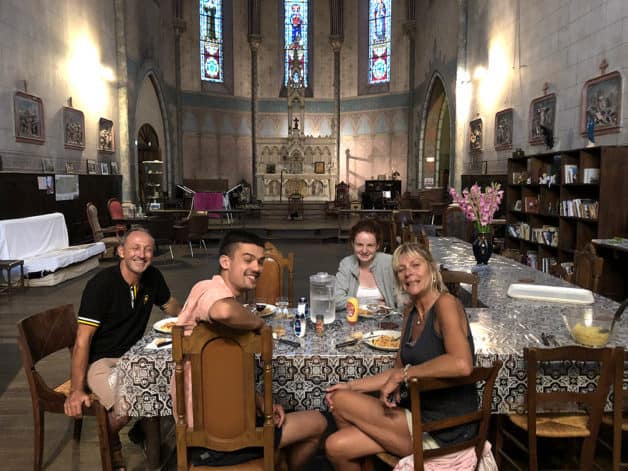 Located on the heights of the city, in front of the Church of Sainte Quitterie, the Ursulines Chapel, desecrated, offers a breathtaking view of Aire-sur-l'Adour.
A place of visits and a stopover for pilgrims of the way of Compostela, it consists of a choir, a nave, a sacristy and two adjoining chapels, partly transformed into dormitories.
Welcome to this unique and history-laden place of accommodation.
Fabienne & Didier
Our new opening time for 2019 :
Admission : after 2pm
Exit : before 9am
A unique place
Enter the Chapel, it is to discover a place protected and renovated every year to keep its historic and artistic character …
A friendly Pilgrims House
Place of exchange and division, the Chapel is an inescapable stage for all the pilgrims who wish to meet other walkers.
A comfortable stage
In a spirit of sharing, we propose two dormitories to the pilgrims. An individual shower-room adjoins each of them, to keep your intimacy.